Floats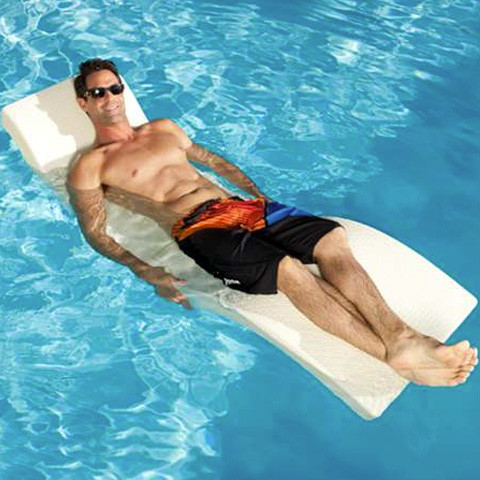 Sonoma Chaise Lounge
SwimWays® TerraSol is a collection of furniture that floats™! The Sonoma Chaise Lounge features:
Durable all-weather construction.
Elegant rattan styling in cream color.
Folds down for portability and storage.
Fully assembled and ready to use.
Made in the USA at our Virginia Beach factory!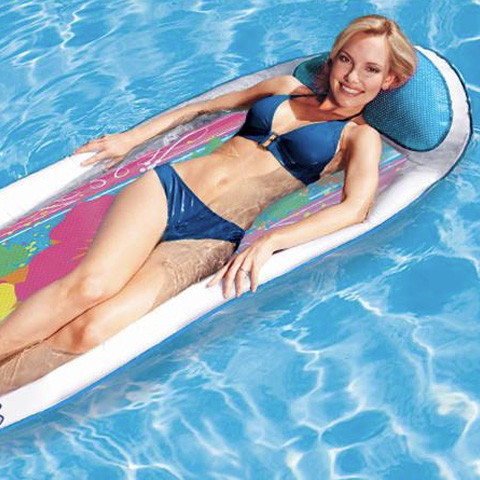 Spring Float Graphic Prints
Ease into a beautiful SwimWays® Spring Float® Graphic Prints™ pool float that feels as relaxing as it looks! All the features of the original SwimWays Spring Float in fun, flirty floral- and beach-inspired designs. Features include:
Open and close your float in a snap with our patented spring technology.
Jet Valve™ makes inflation and deflation quick and easy.
Soothing mesh bed cradles body contours in total comfort.
Carry/storage bag included.
Ages 15+
---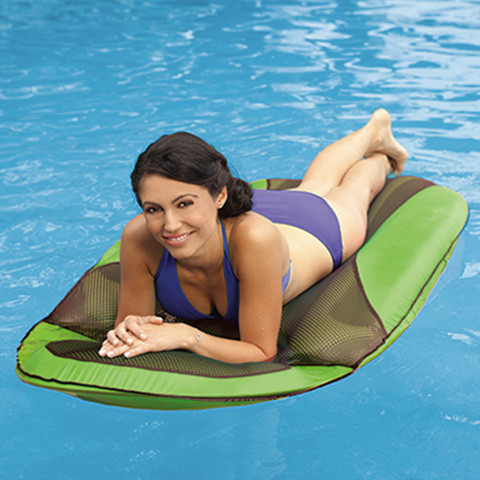 Spring Float SunDry Lounger
The new SwimWays® Spring Float® SunDry Lounger™ pool float has everything you love about our Spring Floats now with full body flotation! Features include:
Brightly-colored fabric and soft mesh cover the float for comfort and added durability.
Patented Inner Spring Technology adds exceptional stability and balance.
Jet Valve technology inflates and deflates easily.
Twists-and-folds easily for portability and storage in included carry bag.
Ages 15+
Pool Games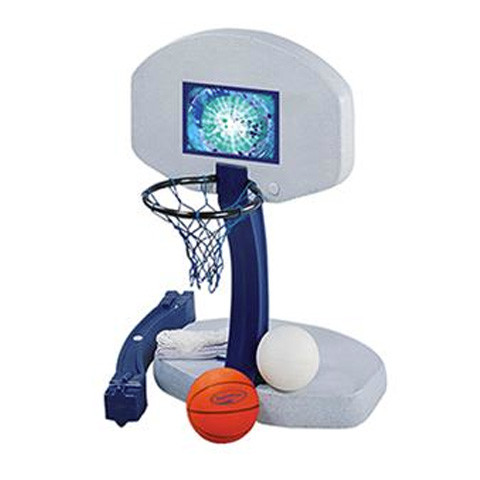 2 in 1 Game – Basketball and Volleyball
The SwimWays® 2-in-1 Game™ features two of the most popular swimming pool games all in one set – basketball and volleyball!
No tools required!
Heavy-duty construction.
Assembles for basketball or volleyball.
Durable volleyball net spans up to 24 ft (7.3 m).
Pro-style volleyball and basketball included.
Ages: 6+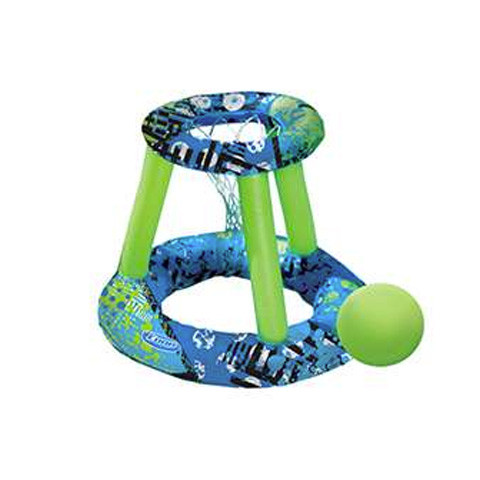 COOP Hydro Spring Basketball
This inflatable swimming pool basketball game springs open for instant action, and springs closed for easy storage. The set includes a brightly colored fabric-covered inflatable floating basketball net and a basketball with textured grip for non-slip performance.
Brightly colored fabric-covered inflatable basketball set.
Basketball with textured grip for non-slip performance included.
Twist-n-fold design for easy portability and storage.
Carry/storage bag included.
Ages: 5+
---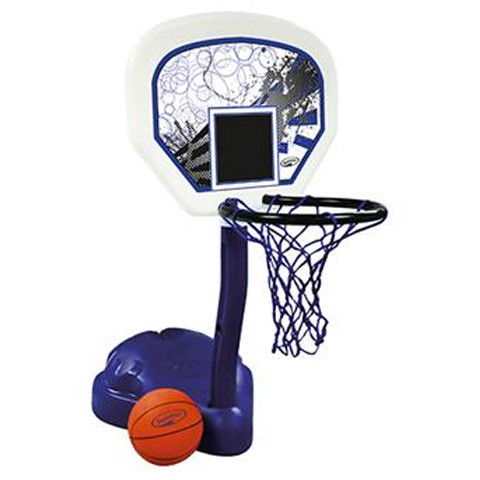 Poolside Basketball Game
The SwimWays® Poolside Basketball™ is a classic pool game the whole family will love! Includes a pro-style basketball, extra-large backboard, built-in ball rest, and a sturdy base for maximum stability. No tools required for assembly. Great for everyday fun or for a pool party.
Ages: 6+
Pool Toys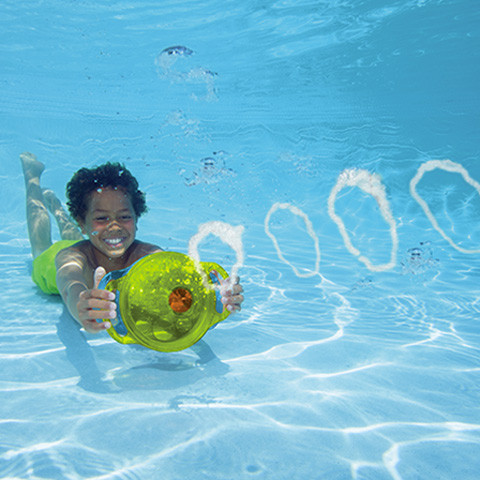 Bubble Ring Blaster
Discover a whole new world of underwater fun with the SwimWays® Bubble Ring Blaster™ swimming pool toy! This scientifically advanced pool toy allows kids to create and project underwater bubble rings. How big can they get? How far will they travel? How many can you make with each trip underwater? Explore, experiment, play!
Ages: 5+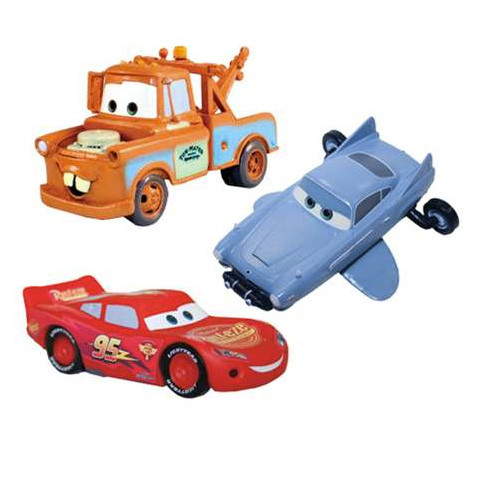 Dive Characters – Cars™
Disney® Dive Characters™ from SwimWays® feature kid's favorite characters from the Cars™ movies!
Play action in and out of the pool.
Soft and flexible design.
Three Cars characters per package: Lightning McQueen™, Mater™, and Finn McMissile™.
---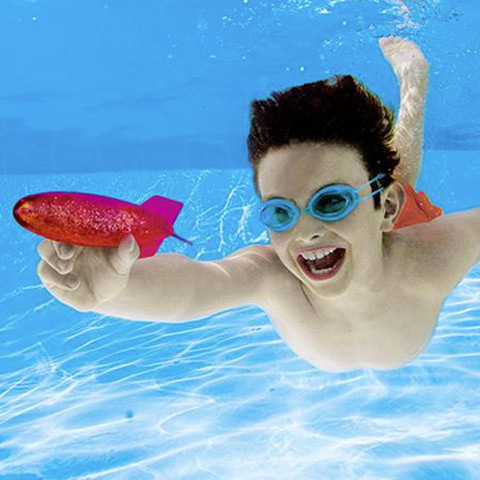 Toypedo Revolution™
The SwimWays® Toypedo® Revolution™ is just as fun as the the original, only a lot more sparkly!
With its amazing hydrodynamic design, the Toypedo Revolution dive toy rockets underwater up to 30 feet. The eye-catching liquid glitter inside sparkles as it glides and twirls through the water.
Ages: 5+
Swim Training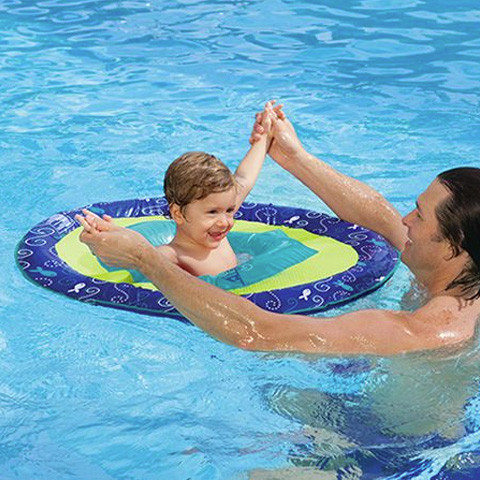 Baby Spring Float – Assortment
The SwimWays® Baby Spring Float™ assortment has all the features of the original SwimWays Baby Spring Float in adorable prints to match your baby's personality!
Low seat provides secure center of gravity.
Mesh play space for toys and splashing.
Folds easily for transport and storage in included carry/storage bag.
Ages: 9-24 mos.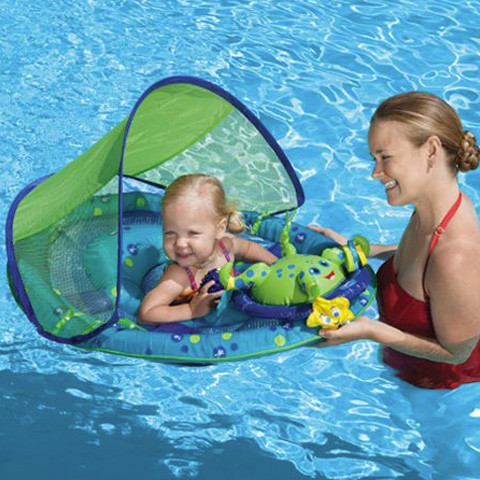 Baby Spring Float Activity Center
Introduce your baby to the water (and an engaging play pal!) with the SwimWays® Baby Spring Float™ Activity Center. Features include:
Adjustable, removable canopy offers protection from the sun.
Interactive play station with activities for every developmental stage.
The octopus' arms hold toys baby can touch and activate: Squeaker, rattle, stacking rings, teether and soft touch star.
Folds easily for storage and transport in the included carry/storage case.
Ages: 9-24 months.
---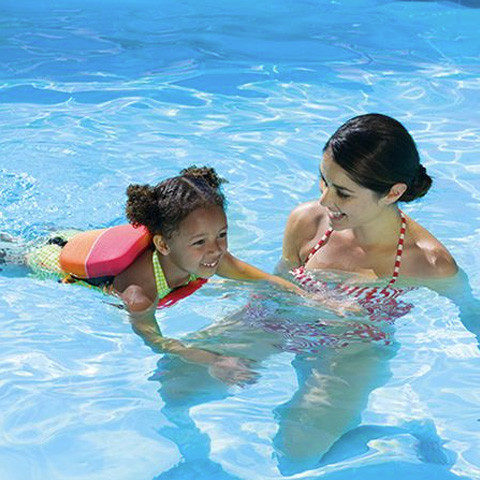 Power Swimr System
The SwimWays® Power Swimr™ System has everything parents need to teach their children swimming skills!
Small size gives confidence to the youngest swimmers.
Graduated flotation advances swimming ability at the child's own pace.
Hidden pockets keep removable flotation pads secure.
Adjustable cords help create a snug fit and keep kids feeling confident.
Small size includes shoulder straps and curved space for chin.
Ages: 2-3 (Approximately 20-35 lbs.)
Available in Small, Medium and Large sizes.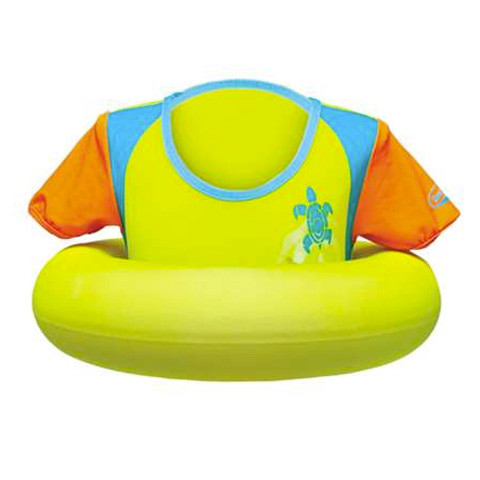 Swim Sweater
Asked for by name, the original SwimWays® Swim Sweater™ helps kids explore the water with confidence!
Stable, circular torso design rides high on child's chest for extra stability.
Sun sleeves add extra sun protection.
Helps kids learn to paddle and balance in the pool – important pre-swimming skills.
Great for use during potty training.
Assorted colors to choose from.
Ages: 2-4 years.
---